I have owned cairns since 1978, my first being a family pet, but l always wanted to show.
In 1987 l acquired my first show bitch, Vanajam Gypsy Lady soon after getting Gypsy,
l got another girl.
This time l went to Mrs. Monica Shuttlworth and brought home
Monary Saucy's Goldfinch for Vanajam.
These two bitches set me on my way with my breeding program, as you will
see from this website.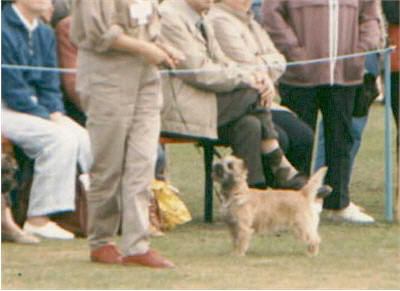 In the show ring Gypsy and Goldfinch gave me great fun, both qualifying for
and being placed at Crufts, all in my first year of showing! Goldfinch was
3rd in post graduate bitch and Gypsy was 3rd in limit bitch, l was well and
truly hooked on this hobby.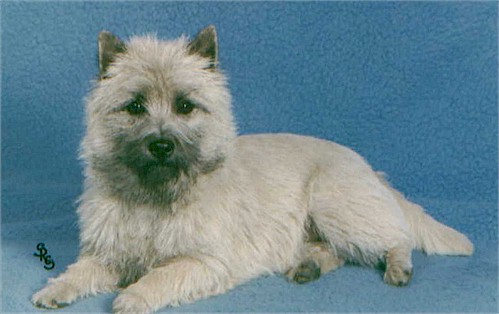 When it came to selecting stud dogs for my bitches, l used a combination of
Penticharm and Uniquecottage dogs, as this is what was behind my bitches,
this combination has served me well.
Gypsy's daughter, Vanajam Gypsy Crystal Ball (Crystal), produced my first two
champions. litter brother and sister, CH Vanajam Norse Voyger (Ross) and
CH Vanajam Fortune Teller (Louis) and in doing so is listed as an influential brood bitch.
This achievement l am very proud of. Ch Vanajam Norse Voyger, has also proved
himself as a top sire, being the sire of 3 UK champions and a
Swedish/Danish Champion Vanajam Bon Voyage also champions in the USA, Sweden and Germany, plus numerous CC and Res CC winners, Including my own Vanajam Visionary (Vis), who at the moment is on 2 CCs and the Res CC at Crufts this year 2001,


I took out the affix Vanajam, which is an amalgamation of my daughters and
sons names Vanessa And James.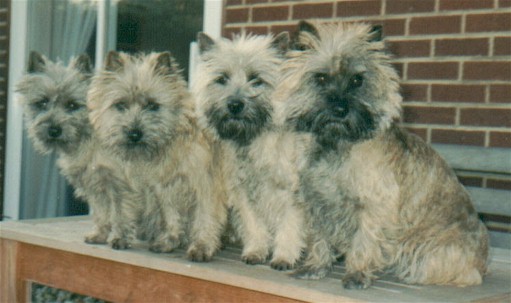 Here you see Lucky , Crystal, Honey, Gypsy,
.............. I keep looking for the birdie !!!



Gillian Ward ∞ Bicester ∞ Oxon ∞ UK
Phone: 01869 240590
Mail